4 Must-Have Leather Laptop Accessories: Laptop Sleeve, Pen Case, Cord Organizer, and Zipper Pouch.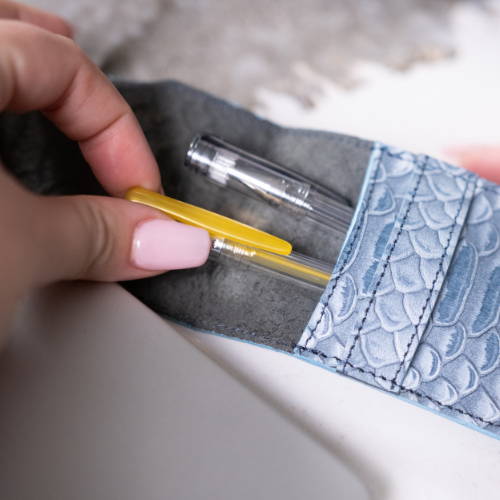 In today's digital age, laptops have become an essential part of our lives. To protect and enhance your laptop experience, investing in high-quality leather accessories is a smart choice. In this blog post, we will explore four must-have leather laptop accessories: a laptop sleeve, pen case, cord organizer, and zipper pouch. These accessories not only provide practical functionality but also add a touch of elegance and sophistication to your daily work routine.
Laptop Sleeve: Stylish Protection for Your Device:
A laptop sleeve is a sleek and protective covering designed specifically to shield your laptop from scratches, dust, and minor bumps. Made from premium leather, these sleeves offer a luxurious look while ensuring maximum protection. With their precise fit and soft interior lining, laptop sleeves provide a secure and cushioned environment for your device. They are available in various sizes to accommodate different laptop models, making them an essential accessory for both students and professionals on the go.
Pen Case: Organize Your Writing Instruments:
A pen case is an essential accessory for anyone who frequently uses pens, markers, or highlighters. Made from supple leather, these cases offer a safe and stylish way to store and transport your writing instruments. A pen case keeps your pens organized and prevents them from getting lost or damaged. With different compartments and elastic loops, you can neatly arrange your pens, erasers, and other small stationery items. Whether you're in a meeting, attending a conference, or simply working at your desk, a leather pen case adds a touch of professionalism and ensures that your writing tools are always within reach.
Cord Organizer: Tidy up Your Cables:
If you've ever struggled with tangled cords and cables, a leather cord organizer is the perfect solution. These compact accessories feature multiple slots and compartments to keep your charging cables, earphones, and other cords neatly organized. By neatly coiling your cables and securing them in the organizer, you can say goodbye to messy tangles and easily locate the right cable when needed. With their elegant design and easy portability, leather cord organizers are a must-have accessory for anyone who frequently travels or works in different locations.
Zipper Pouch: Versatile Storage Solution:
A leather zipper pouch is a versatile accessory that serves multiple purposes. It can be used to store small essentials like USB drives, memory cards, adapters, or even personal items like keys and coins. The pouch provides a secure and stylish way to keep your belongings organized in one place. Whether you're traveling, attending meetings, or working from a coffee shop, a leather zipper pouch ensures that your essential items are easily accessible and protected.
Final Thoughts
Investing in high-quality leather laptop accessories not only enhances the functionality of your device but also adds a touch of sophistication to your work setup. A laptop sleeve, pen case, cord organizer, and zipper pouch are must-have accessories for professionals and students alike. With their durable construction, elegant designs, and practical functionality, these leather accessories provide a seamless blend of style and organization.
So, why settle for ordinary laptop accessories when you can elevate your experience with luxurious leather options? Choose these four essential accessories to protect, organize, and elevate your laptop usage while showcasing your impeccable taste and attention to detail. Upgrade your laptop setup with these must-have leather accessories and make a statement in both form and function.